Musica Religiosa Radio 4 - Epiphanie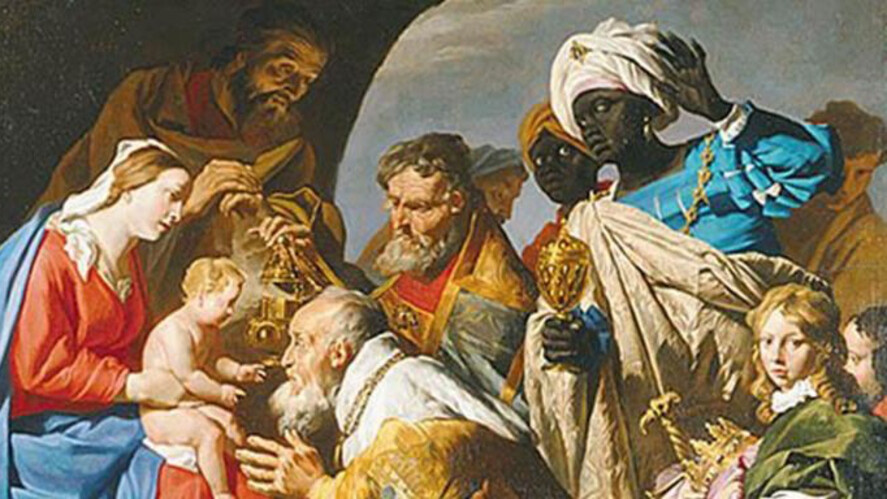 Driekoningen, een christelijk feest, wordt in veel kerken gevierd. In Psalm 72, gaat het ook over drie koningen, die van Tharsus, Seba en Saba: "laten ook zij hem schatting afdragen." Zij brachten geschenken voor de Koning, bij geval als baby liggend in een kribbe.De Engelse componist Thomas Weelkes gebruikte enkele verzen uit psalm 72, voor zijn Anthem "Give the king thy judgements"
Speellijst 09.03 - 00.00 uur
William Babell

Concert voor blokfluit, violen en b.c., op.3, nr.1 in D gr.t. - deel I, "Allegro"

Dan Laurin [blokfluit]
& Orkest Van Wassenaer
- Makoto Akatsu

Bis 
985

2.15

Jan Pieterszoon Sweelinck

Psalm 72, "Tes jugements, Dieu véritable"

Gesualdo Consort Amsterdam
- Harry van der Kamp

Glossa 
GES 922402-nl

3.50
Johann Sebastian Bach

Das wohltemperierte Klavier boek 1, BWV.846-869 - "Prelude en fuga nr.9 BWV.854 in E gr.t."

Angela Hewitt [piano]
Hyperion
 CDS44291/4

2.35

Thomas Weelkes

Give the king thy judgements

Cambridge Choir of Sidney Sussex College & Fretwork
- David Skinner

Obsidian
 CD708

4.50
Johann Sebastian Bach

Cantate BWV.65,"Sie werden aus Saba alle kommen"

James Gilchrist [tenor] & Peter Kooij [bas]
& Bach Collegium Japan
- Masaaki Suzuki

BIS CD
CD-1311

15.47
Peter Cornelius

The three kings

The Choir of King's College
 Cambridge - Stephen Cleobury

King's College Cambridge 
KGS0007

2.18

Jean Sibelius

Andante cantabile in G gr.t., 1887

Jaakko Kuusisto [viool] & Folke Gräsbeck [piano]

Bis
 1022

2.35
Francis Pott

Balulalow

Voces8

DECCA
 4830968

2.53
Richard Strauss

Liederen voor zangstem en orkest (6), op.56 - nr.6, "Die heiligen drei Könige aus Morgenland"

Charlotte Margiono [sopraan]
& Radio Filharmonisch Orkest
- Edo de Waart

Brilliant Classics
9065

5.45

Felix Mendelssohn

Christus op.97 - There shall a Star from Jacob come forth"
Ex Cathedra Choir
- Jeffrey Skidmore

Orchid classics
 ORC100008

4.57
Wolfgang Amadeus Mozart

Symfonie in D gr.t., (naar Serenade nr.7, KV.250, "Haffner Serenade") – dl. V, "Adagio - Allegro assai"

Academy of Ancient Music
- Christopher Hogwood

L'Oiseau Lyre
 4211 042

10.27